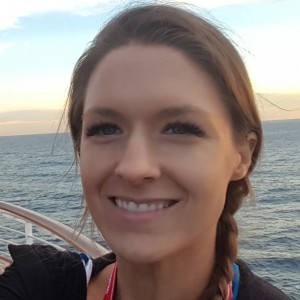 Hi, my name is Kiersten, and I have been selling on Poshmark since the beginning of 2013.
I used to take heaps of clothes to local thrift stores and would get pennies in return.  As soon as I heard about the Poshmark app, I listed five items for sale.  To my surprise, I made my first sale within 24 hours!  It was a pair of shoes that I had never even worn, and I made $28.
The reason I created this site is to help you succeed in selling clothes through Poshmark.  I have seen first-hand how easy it is to make extra money by selling your unwanted clothes online, and I want to share what I have learned with you.  I want you to see similar (or even better!) earnings and I know you can do it.
If you ever have any questions or comments, don't hesitate to ask.  Also, if any of the topics particularly interest you, go ahead and get involved in a discussion.  I love talking with other Poshmark sellers, and I think we can all learn from each other.
I'm @kayydev on Poshmark.  Drop me a message in my closet and I will definitely follow you back.
Here is a screenshot of my total sales as of 4/18/2016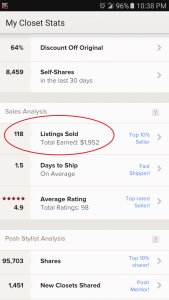 (Visited 3,181 times, 1 visits today)