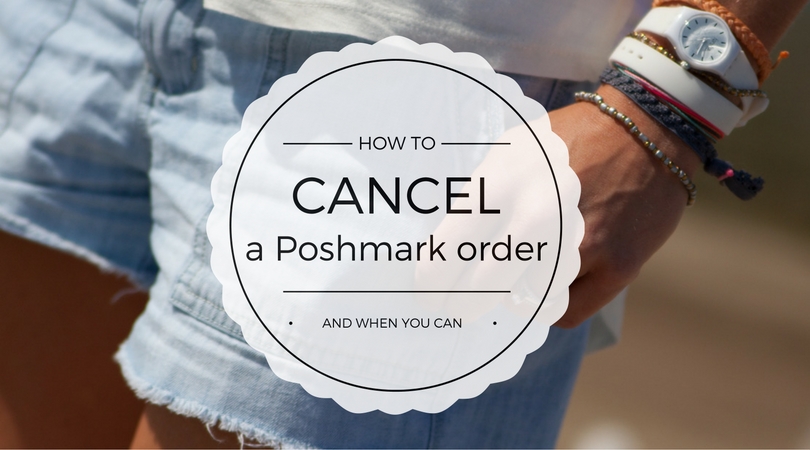 Sales are supposed to be final, but both buyers and sellers have opportunities to cancel a Poshmark order.
So when are we allowed to even cancel?
I'm a buyer and want to cancel my Poshmark order
Initially, you have a very short window where you can cancel a purchase.
Poshmark gave us this feature to deal with accidental purchases. Maybe you accidentally hit the Buy Now button while browsing.
Or maybe your kid got a hold of your phone and unknowingly bought 3 Chanel bags.  Oopsie!  (Ok, MY credit card probably would declined the second purchase anyways, but one can dream!)
Maybe you are even having some buyer's remorse and have just changed your mind.  In that case, you can still take advantage of the cancellation window.
No matter the reason,  you have 3 hours to cancel the order after it has been placed.
For this reason, I think it's a good idea to have the email address associated with your Poshmark account be one that is synced on your phone. Then you will see the email confirmation for an order that you weren't expecting.
I'm a buyer and the seller hasn't shipped my order yet
The second chance that you have to cancel your Poshmark order is if 7 days have passed and the buyer hasn't shipped it yet.
I wouldn't necessarily recommend just cancelling the sale out of spite.  If you really wanted the item and it was a good price, try holding out a little longer.
Check in with the seller to keep reminding them that they still need to ship your package.
But if you no longer care, or were hoping to get the package before a certain event, then go ahead and cancel.  The seller probably didn't care enough about making a sale if they couldn't figure out how to get a package to the post office after a whole week.
Poshmark will actually cancel an order automatically after 21 days if it hasn't shipped and neither you or the buyer have cancelled it.
How to cancel a Poshmark order yourself
To actually cancel the order, go to you Account Tab > My Purchases > "Select the Order" > Problems/Order Inquiry > Accidental Purchase.
One other requirement is that the order cannot be cancelled once it has shipped.  Usually, this won't be a big issue. Honestly, how many sellers get an order, pack it up and then get it to the post office within 3 hours?! (I know some probably do and they are absolute rock stars!)
As soon as you see a shipping confirmation email, then the order is no longer eligible to be cancelled because the package has already been scanned and accepted by USPS.
As a note to sellers: If you do manage to get an order to the post office within 3 hours, make sure they scan it in while you are there.  Don't just drop off the package and leave.  If the buyer cancels the order after you drop it off, but before it gets scanned, then it can cause a big hairy mess that you just don't want to deal with.
I'm a seller and want to cancel my Poshmark sale
Did you list something on Poshmark and have a change of heart the second it sold?  Maybe you don't want to get rid of that top after all?
You have way more freedom than the buyer to cancel a sale.  You can cancel any time, but Poshmark won't like it if you do that too often.
It also doesn't provide good customer service and you just end up making a customer angry or disappointed.  Would they want to buy from you again after that?
If you notice damage when you go to pack up a piece of clothing, speak to the buyer before just cancelling the sale.  Who knows?  They might be totally ok with it.
I'm a seller and the buyer is asking me to cancel
When the seller asks me to cancel a sale after the 3 hour window, I will generally allow it because I want to offer the best customer service.
I don't want anyone to feel bad about buying something from me, so I would rather miss out on the sale and give my shoes or whatever to someone who really wants them.  Yes, buyers can rePosh their purchases, but I can just as easily create a new listing.
Unfortunately, there is not yet a feature to remove the Sold tag from a listing.  So it is necessary to create a brand new one and start from scratch.
How long does it take for the refund to process?
Once an order is cancelled, Poshmark immediately processes the refund.  It may take up to 2 days for it to credit back to your credit card though.
If you used Posh Credits or your Redeemable Balance, then those funds will actually be available to you immediately.
Do you have any funny accidental purchase stories? Share them in the comments! (I need a giggle)  🙂
(Visited 71,821 times, 6 visits today)