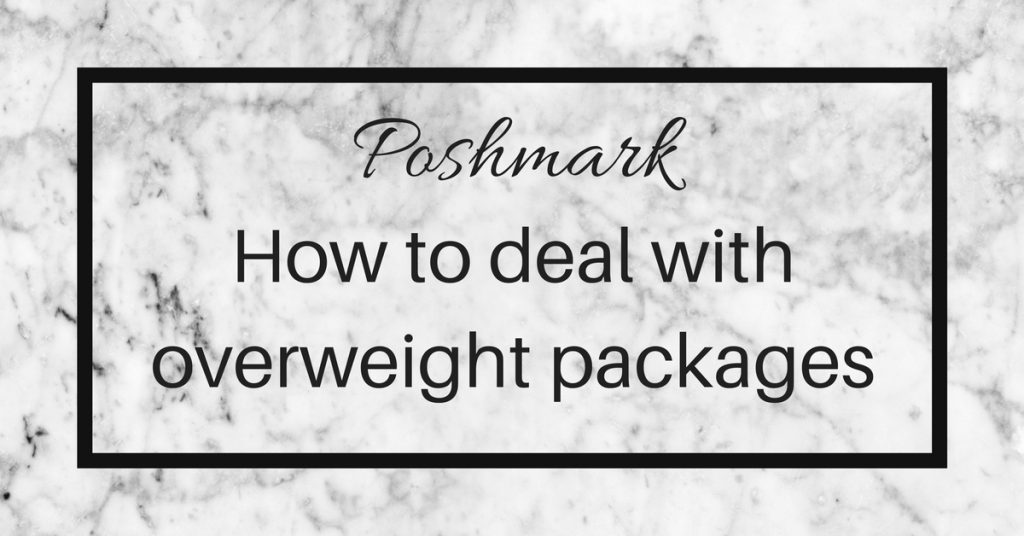 While the buyers pay the shipping fee, you still have a limit on how much you can ship with the standard label.
Interestingly enough, there doesn't appear to be any restrictions on the size of a box.  But there is a 5 pound limit on the weight.
The majority of clothes, shoes and accessories will be under 5 pounds, but you may run into an overweight package issue if you have sold a large bundle.
So what do you do with an overweight package?  You CAN still ship it, but you can't use the label that Poshmark automatically sends once the order is processed.
How to upgrade a shipping label
It's seriously suuuper easy.
Go to "My Sales" in your account tab and then click on the order that you need to upgrade.
Scroll down to the bottom and click on "Need New Shipping Label".
Then click on "Need Heavier Weight Label"
Go to "Weight" and choose the desired weight for your label
Then tap "Next" and "Send New Label"
You'll instantly get the upgraded label in your email, just like how the original label shows up.
Who pays for the upgraded label?
You doooo.  #sorrynotsorry
(If you need an upgraded shipping label, then you probably made a pretty sweet sale anyways)  😉
You only pay for the additional cost based on the weight.  The $5.95 that the buyer paid still gets applied, so the upgraded label shouldn't be outrageous.
Extra shipping costs will be deducted from your earnings once the package is accepted.
So basically, don't list anything heavy that you can only sell for a few dollars.
Don't use multiple boxes!!!
I have seen more than one case where a Posher thinks they are going to be all clever and ship their order in 2 separate boxes.
The problem with that is that individual shipping labels are only good for one physical package.  You cannot print the same label twice and put it on 2 different boxes.
If you try it, one of the boxes will be returned to you and the buyer will open a case because they did not get their whole order.  Then it will be returned back to you and you will be out of a significant sale.
So just don't do it.
Upgrade the label if your package is over 5 pounds and you will be all good.
Weighing your package
If you are concerned that your package might be too heavy, definitely weigh it before you just drop it off at the post office.
A shipping scale will be your best option, but if you don't have one of those you can use a regular body weight scale.
If your body weight scale won't register light objects, you can totally still use it.  Just stand on the scale and weigh yourself.  Pay attention to the decimal digits.
Then grab your fully boxed package and get back on the scale.  Subtract the first number from the second number.  If the difference is under 5 pounds, then you're good.  Otherwise, get that upgraded shipping label so your Poshmark package gets to your customer in a timely manner.
Have you ever had to use an overweight shipping label?  What kind of a sale were you shipping?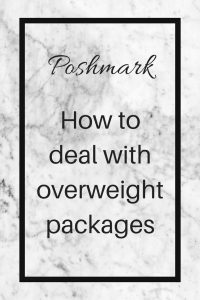 (Visited 25,506 times, 1 visits today)