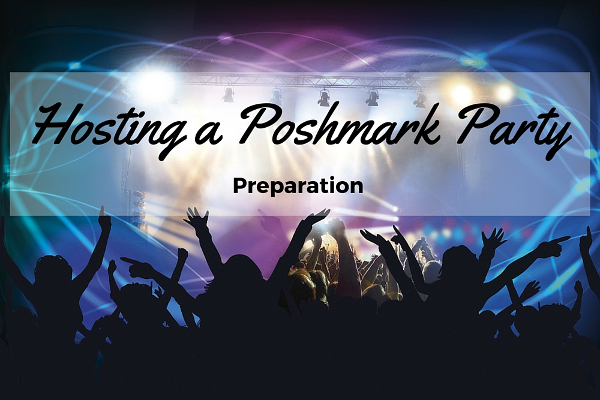 If you have been invited to host your first Poshmark party, you may be wondering what it will be like and what you are actually supposed to do for 2 hours.
First of all, check out my previous post on how to prepare to host a Poshmark party.
(If you would like to know how to be invited to host a Poshmark party, check out this page).
I just finished co-hosting my second Poshmark party on Sunday evening.  It was the Weekend Wardrobe theme and I had a total blast!
The Day of the Party
Get your day in order so you can be 100% focused for the full 2 hours of your party.  Whether you are hosting in the afternoon or the evening, you will stay busy the whole time.
If you have kids that aren't in school, see if your spouse can watch them for a couple of hours.  If not, consider hiring a baby-sitter or asking a friend to help out.
Get some sustenance ready.  Have a snack and something to drink on hand.  And prepare a comfortable place to sit where you won't be distracted by anything else.
Decide whether you will share from your phone, a tablet or a laptop/desktop during the party.  I share from my laptop because I can have several tabs open for Pinterest and Poshmark and they are all easy to see.
If you want, ask a friend to share your closet for you during the party.
Finalize Host Picks
You should have received an email about a week before the party letting you know what the theme will be.
Make sure that you have the majority of your host picks already lined up before the party starts.  Remember that Poshmark asks you to share between 50 – 100 listings to the party (and to not go over 100).
Definitely have at least 50 picks planned before the party.  I like to have around 70 listings already picked out and saved to my "Planned Host Picks" Pinterest board.  Pinterest is my favorite way to stay organized while hosting because I find it easier to look through my pinned listings and I can add comments.  I always set up private Pinterest boards for anything related to my host picks.
I like to set up the following Pinterest boards:
Planned Host Picks – for listings I will definitely be sharing unless they sell before the party
Backup Host Picks – to fill in the gaps if one of my definite planned host picks suddenly cannot be shared for some reason
Shared Host Picks – (explained below)
Limit Notifications
If you created a party announcement, then you have probably already been getting a lot of comments and shares.  The activity also probably increased the night before after Poshmark sent out the party announcement.
Isn't it fun!?!  …But overwhelming?  And totally awesome for your closet to be getting so much attention?
If you think your feed is going nuts now, it's only going to get more insane as the party gets started.
Even during the party, you will have people asking for host picks.  (While I have the majority of my picks planned out in advance, I will usually leave a few open to users who ask during the party.)  There will also be users congratulating you on hosting the party and many of the poshers whose listings you share will thank you while the party is still going.
Consider turning off your mobile notifications.  At the very least, turn off notifications for likes and shares and just leave comments on if you really want to.
Party Time!!!
Once the Poshmark party officially starts, all you have to do is share listings to the party like you normally do by selecting "Share to Party".
Anything that you share to the party will be counted as a host pick.  This is why it can be super helpful to have someone else share your closet to the party for you to get your listings in the main feed.
Once you share your first host pick, load or refresh the Host Picks party feed and double check that your pick is showing up.  If it's not, contact Poshmark Support or the employee who emailed you about the party to figure out what might be wrong.  I have never run into technical issues while hosting and I haven't heard of it happening too often, so I don't think you will have anything to worry about.
After each host pick that I share, I leave a comment on the listing so the posher understands what just happened.  Some newer users don't quite understand what the parties are all about and might be confused when they get a whole bunch of congratulatory comments on their listing.  For my last party, my host pick comment was:
Can we start the weekend over again?!? Even though Monday looms near, here's a bit of cheer! I've picked this totally posh listing for tonight's Weekend Wardrobe party! <3
Don't rush and try to share all your picks at once.  You want to keep the party going and keep it engaging for the full 2 hours.  If you share 100 host picks, that averages out to sharing a listing every 1.2 minutes.  Since the actual process of sharing a listing takes a couple of seconds, it can be easy to blow through your host picks super fast.
The way I use Pinterest helps me pace myself.  After I share each planned host pick, I edit the pin to be saved on my "Shared Host Picks" Pinterest board.  That way, it disappears from the planned host picks, so I don't try to share it twice.
I also use my Shared Host Picks Pinterest board to keep count of what I have actually shared to the party to make sure I don't go over 100 listings.  I even pin listings that I share on-the-fly to the board.
I will also check my news feed for comments in between shares or hunt for some last-minute host picks in the Main feed and the First Look feed.  I think it's fair to reward some people who share to the party without expecting anything back.  I figure it might make them more motivated to continue participating in Poshmark parties.
After the Party
Once the party is done, you can take a breather!  Whew!  You did it and totally rocked it.
After catching your breath, promptly respond to any comments from buyers who asked questions about your own listings.  You never want to put those off for too long.
You are already going to have a lot of "thank you" comments by the end of the party.  If you feel like responding to any of those, now is a good time.
Definitely DO NOT worry about shares-for-shares!  There is pretty much no way to go back through all of the notifications and return every single share.  You earned it from all of your previous work, shares and participating in the Poshmark community.
Now that the party is all over, you will probably want to host again.  Poshmark requests that you wait for 3 months before asking to host again.  It might seem like a long time, but it actually ended up being more like 5 or 6 months before I remembered to ask to host a second time.
Have you hosted a Poshmark party before?  What are some of your tips for staying sane with all of the likes, shares and comments going on?  How do you like to choose your Host Picks?  Drop a comment below!
(Visited 3,225 times, 1 visits today)