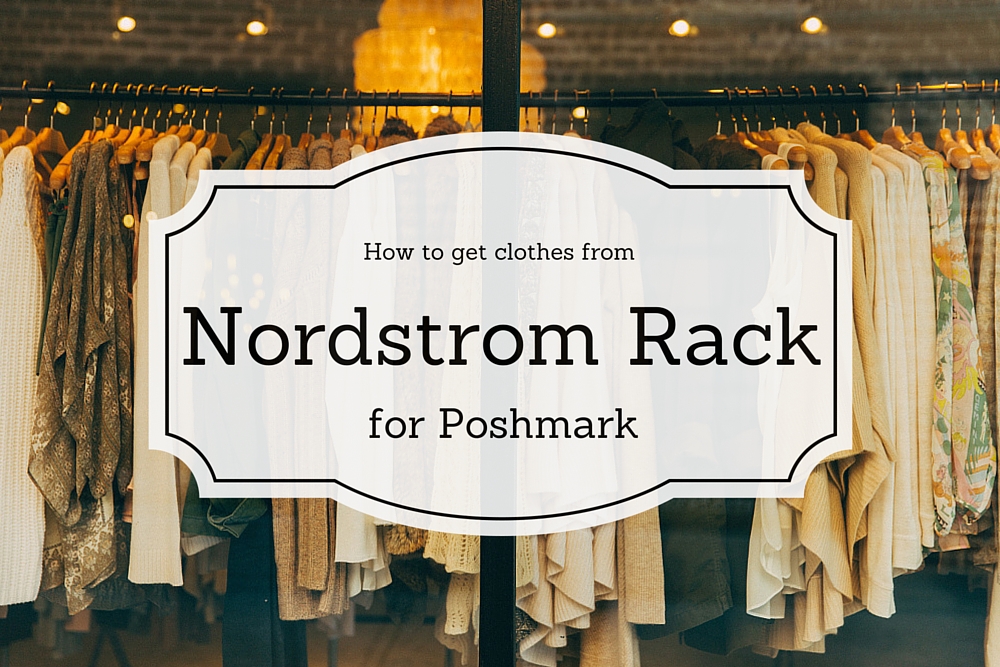 Having a lot of listings available is one of the keys to making more sales.  You may run out of clothes from your own closet that you want to sell, so then what do you do?
You can buy designer brand clothes at super discounted prices and then resell them on Poshmark.  One of my favorite places to source clothes from is Nordstrom Rack.  The best part is that a good number of the brands that you can find at Nordstrom Rack are in high demand on Poshmark.
It's super easy, doesn't require any minimum purchase amount, and you can score some seriously amazing deals there.
Nordstrom Rack sells Nordstrom items that were returned, Nordstrom inventory that didn't sell in a certain time frame and even inventory that was purchased specifically for the Nordstrom Rack stores.
Here's how you can tell whether something came from Nordstrom or whether it was purchased only for Nordstrom Rack.  Price tags on items that originated in the full-fledged Nordstrom stores will have a colored stripe on the tag that is used to indicate the season the piece was first available.  Items that started out directly in Nordstrom Rack stores will have a plain white tag with black text and barcodes.  The only catch with this method of identification is that items can be returned to Nordstrom without their tags still attached, so those items might have the Nordstrom Rack tags put on them to be resold.
Physical Store vs. Nordstrom Rack Online
I absolutely love browsing through the Nordstrom Rack store.  Absolute gems can be hidden anywhere amongst the racks of clothes or aisles of shoes.
I also love browsing Nordstrom Rack online to see what is available there.  The closest Nordstrom Rack used to be an hour away from me, so I didn't drive out there very often.  A brand new one finally opened up close by, but sometimes I still just don't feel like going out shopping.
I've found deals that were just as amazing online as the deals that I have found in the stores.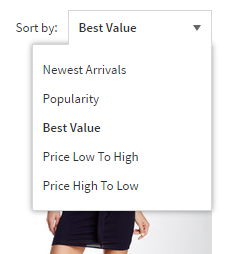 Inventory probably won't be the same online versus what is in your nearest physical store, so even if you have a Nordstrom Rack close by, it's still worth checking out what is available on the website.
Another benefit to shopping Nordstrom Rack online is that you can sort by the Best Value, which means you can order items to see the most discounted ones first.  I have found things for up to 98% off by doing this.  This can be valuable because something that is only discounted by 20% probably is not worth trying to resell on Poshmark.
You also get free shipping on orders over $100 (as long as the package doesn't weigh more than 5 pounds).  So if you are stocking up on inventory, that is an easy target to hit.
Free Shipping on orders over $100 at Nordstrom Rack
Generous Return Policy
The Nordstrom stores are well known for their exceptionally generous return policies.  Following the company's desire to provide incredible customer service, Nordstrom Rack also has a great return policy.
Items can be returned within 90 days of the original ship date.  If you must return your purchase by shipping it back to nordstromrack.com, then you will be responsible for a $5.95 shipping fee for shipping within the U.S.  However, you can return any online purchases to a Nordstrom Rack store for FREE!
This means that you can buy an item and list in on Poshmark.  If it doesn't seem to be generating much interest within 90 days, then you can return it and not have lost any money on something that you can't resell.  So it's an incredibly low-risk way to get started with buying clothes to resell on Poshmark.
While that is a convenient option to know about, I would try not to take advantage of their generosity.  I have personally never returned something to Nordstrom Rack as I always managed to resell my inventory on Poshmark at some point.
Profit Margins
Remember that Poshmark takes 20% of your final price when you make a sale, so keep that in mind when you are shopping for items to resell.
At a very minimum, I only buy things  that I can resell for double what I paid for.  (At least, when I am specifically buying something to resell.  Most of the clothes in my closet are still actually my own clothes that I am selling at a loss.)
Also, keep in mind that buyers on Poshmark are looking for a deal.  If you can mark up something you find for double or triple what you paid and still offer it at 50% off the retail price, then you have found a good resell candidate.
Is it ethical to sell something that I bought for way less?  Yes.  Absolutely.  That is what every business everywhere aims to do.  Regular retail businesses buy their inventory from wholesalers and mark it up to make a profit.  That's how they make money.
You are still offering items at a discount from the original retail price, so the buyer is still saving money.  Just maybe not quite as much money as you saved.
Earn Even More with the Nordstrom Credit Card or Debit Card
When you shop at Nordstrom rack with the Nordstrom credit or debit card, you will earn 2 points for every dollar spent.  Once you have 2,000 points, they can be redeemed for a $20 Nordstrom Note which can be used at either Nordstrom or Nordstrom Rack.
This ends up being a 2% rate of return for the rewards program, which is on par with other great rewards credit cards.  What makes it even more amazing is that there is no annual fee, so it really is free rewards.
Sometimes the store will have special event days where you will get more than 2 points for every dollar spent.  Sometimes those days are combined with extra discounted sales.
Additionally, Nordstrom has a special offer when you first sign up for your credit or debit card.  You will earn your first $20 Nordstrom Note after spending only $100.  Then you will continue like usual earning Nordstrom Notes for every 2,000 points.
You can use your Nordstrom Notes for personal purchases or to get even greater discounts on your next inventory shopping trip.
Best Days to Shop
The best days to shop will be when the store gets new inventory in.  You'll want to try to go through it before all the best deals get picked over.  Check with your local store to find out when they restock since they will all be different.
Also, follow both the main Nordstrom Rack socials media accounts and your local store's social media accounts to find out about extra special sale days or time when you can get extra reward points on your Nordstrom card.
You'll Need a Business License
When you are specifically purchasing inventory to sell for a profit, you will need to have a business license.  I'll be covering this in a later post, but the exact process is going to be specific to the state that you are living in.
Keep track of which items you sold for a profit and also which you sold for a loss so that you have thorough records when it comes time to file your taxes.  You definitely want to make sure that you are conducting business legally and properly.
(Visited 10,223 times, 1 visits today)