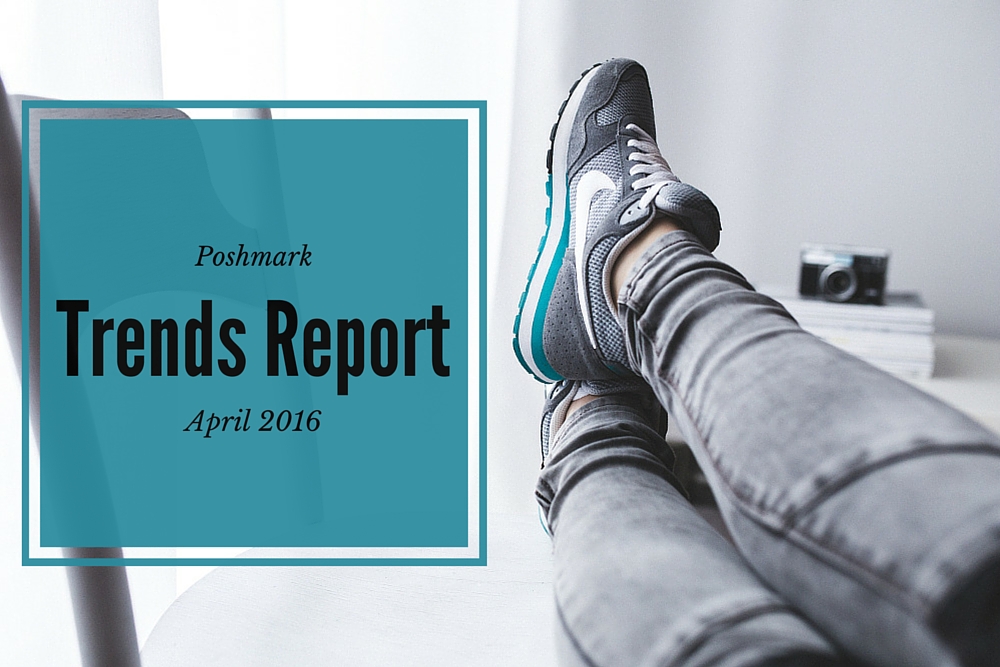 Poshmark HQ's newest trend report video is up on YouTube!
So what does this all mean for us sellers?  We have trending brands to look at, upcoming events to keep in mind, an idea of how the new features announced last month have turned out, and a specific seller tip.
Trending Brands
Both Victoria's Secret and PINK are consistently in the top 10 trending brands on the Poshmark app.
Victoria's Secret
Victoria's Secret items selling on Poshmark aren't all just bras and underwear.  They really have something for every category.

However, I have noticed the following search terms are suggested as things other people have been looking for:
Victoria's Secret t-shirt
Victoria's Secret jacket
Victoria's Secret shorts
Victoria's Secret yoga pants
Victoria's Secret tank top
Victoria's Secret blazer
Victoria's Secret tote
Victoria's Secret leggings
While this is a very in-demand brand, it is also very well supplied in certain categories.  You will probably get a lot of likes on Victoria's Secret listings but you will need them to stand out for those items to actually sell quickly.
Remember that used underwear is never allowed on Poshmark – it must be new with the tags still attached.  Used bras are allowed now though.
PINK by Victoria's Secret
Like the main Victoria's Secret line, PINK has items for every category on Poshmark.
PINK Victoria's Secret t-shirt
Pink PINK Victoria's Secret t-shirt
PINK Victoria's Secret yoga pants
Pink PINK Victoria's Secret yoga pants
Searching for "PINK + item" or "Pink PINK + item" will actually pull up the same list of items, so you don't need to use both in your listings.  Just use "PINK" and save room in the title for other descriptive words.
Swimwear to be discontinued
Victoria's Secret announced that they will be discontinuing their main swimwear line after this year.  Instead, they will be focusing more on their VS Sport Activewear line.  The news can be sweetened a tiny bit by the fact that they will still have some biking available under the PINK brand.
This means that discontinued swimwear styles will be highly sought after in resale markets.  Used swimwear is technically now allowed on Poshmark, but you will probably have an easier time selling unused suites.
Graduation time
This is the time of year for graduations.  College, high school, and now even grade schools and kindergarten classes are jumping in on the celebration.
For the graduates themselves, you can easily market shoes and accessories.  After all, their outfit will most likely be hidden under their school's graduation robes.
Shoes trending on the app right now are gladiator sandals and stacked heels.  Stacked heels are especially appropriate in the backless mule trend that was growing in popularity last month and is still going strong.
Stilleto heels may be cute, but a lot of graduations happen outside and those skinny heels just aren't all that practical for walking in the grass.  Even for indoor graduations, you wouldn't want to risk tripping on your way to get your diploma.
For graduation attendees, we should again consider the weather.  Market items that work in light layers and cater to a variety of outdoor temperatures.
Last month's new features
Last month, Poshmark added their new multi-item listing feature and more size categories for your listings.  What didn't make it into last month's video was that 200 new brands were officially added to the app to cater to these extended sizes.
Some of those new brands include ModCloth, Simply Be and ASOS (along with ASOS Curve and ASOS Petite)
I wrote a previous post about some of the brands that were immediately popular in these new size categories.
These features are already being used by both buyers and sellers, so don't worry that no one will find your listing if you set the size to plus, petite or junior.
Seller's Tip
Kate identified the 3 C's of fantastic cover shots that sell.  Take a look at your existing listings and see they are covering all three of these points.
I recognized that I have areas to improve on myself and plan to update several of my cover shots accordingly.
Clarity
Make sure your photos are clear and brightly lit.  To get good lighting, you can use natural light or studio lighting like the one I described in this article.
You can also further lighten your photos a bit with a photo editing app or software.  Don't overdo it digitally or you can introduce other negative photo effects or cause the item to appear too washed out.
To keep them clear, make sure that your photos don't end up blurry.  You can use a tripod with a universal phone attachment like this ChargerCity MegaGrab2 Easy-Adjust Smartphone Holder Mount & 360º Swivel Selfie Video Recording Camera Tripod Adapter for Apple iPhone 6s Plus 6 SE Samsung Galaxy S6 S7 Edge Note *Tripod not included on Amazon.
Or you can use one of these TriFlex Mini Phone Tripod Stand – The Best Flexible iPhone Tripod for Any Smartphone Including iPhone 6, 6s Plus, Samsung Galaxy S6, Note 5 (Black) that will wrap around a pole, chair rung or a cabinet knob in your home.
Consistency
Ask yourself these questions.  Do your cover shots go together?  Do they tell a story?  Do they represent your brand?
You can use your favorite accessories for flat lays or your favorite background for standing photos.  Plenty of sellers like to use white faux fur rugs, cute wood floors or marble countertops behind their pieces.
Some sellers use all flat lays, style the items on a mannequin or model them personally.  I think it is fine to still use a combination of these techniques and maintain a consistent listing style.
Composition

Your cover photos should be balanced and not cluttered by too many other items.  It should be very clear what you are selling.
When styling what you are selling with other clothing pieces and accessories, it can become confusing what the listing is actually for.  Make sure that the item being sold is the focus of the image and that it stands out.
Pair it with other neutral pieces or contrasting colors.  Keep accessories in flat lays around the edges of the image.
(Visited 1,606 times, 1 visits today)