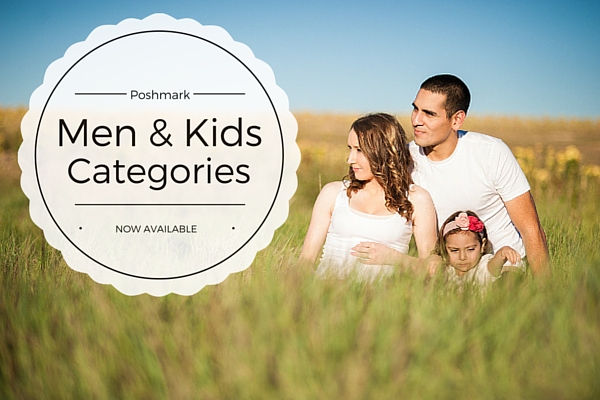 The day is finally here!!!  Poshmark for men!  Poshmark for kids!
You know how Poshmark HQ has been taunting us for a year with the possibility of expanding to men's and children's clothing?  They kept dropping hints in interviews with various media companies and saying they were considering those features.  Well they finally went for it!
Last week, they announced in the Suggested User Scoop email that men's and kids' categories would be available this summer.  My first thought was that probably meant the very end of the summer…maybe stretching into fall.
But the FAQ has already been updated in both the mobile app and the website.  The answer to "What can I sell on Poshmark?" now begins with the following:
"Poshmark is a marketplace for women's, kids' and men's fashion and accessories."
So hopefully you didn't give up hope and donate all of those other clothes.  Because, as of right now, you can list them on Poshmark without breaking any rules.
Poshmark Rules Refresher
Speaking of rules, let's take a minute to go over what hasn't changed.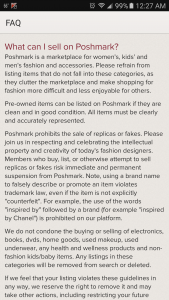 Poshmark still forbids listing replica or counterfeit items.  Along with the obvious violation of listing counterfeit Chanel bags, it's also a violation of the rules to falsely advertise a listing as a brand that it isn't.  This also goes for listing an item as "inspired by" a different brand.
Listing counterfeit items is disrespectful to the real brand and it's also breaking the law!  On top of that, you risk having your Poshmark account permanently shut down.
As for what kinds of items can be listed, this is exactly what Poshmark says about it:
 "We do not condone the buying or selling of electronics, books, dvds, home goods, used makeup, used underwear, any health and wellness products and non-fashion kids/baby items."
And remember that liquids are also not allowed.  That's not just some arbitrary rule.  It's because USPS does not allow liquids to be shipped in packages.
And you might think, "but wait, I order liquids online all the time?"  Yes.  They're probably shipped by a different carrier.
Keep your listings to clothes, shoes, accessories and non-liquid beauty products and you'll be just fine.
New or Same Closet
If your spouse has a whole lot of clothes that can now be listed, should they start their own closet?
There are a few things to consider.
How involved does your spouse want to be?  If they are excited about creating and sharing listings like you've been doing, then great!  If they couldn't care less, then maybe you should just list those clothes in your own closet to avoid logging in and out of two different accounts.
If you already have over 100,000 followers, then that could make a slight difference.  Your spouse will be starting from scratch.  But then, new closets will probably generate a different list of followers and they appear in all sorts of new closet lists for a while where they can get more attention.  You can also share both your closet and your spouse's closet to expose those listings to your own followers.
For kid's clothes, if your kids are still pretty young, then you will be the one listing and sharing those items anyways.  And before you set up a second closet for kid's clothes only, be aware that Poshmark does not allow one person to have multiple accounts without their written permission.  It's definitely possible though and I know a few Poshers who were able to get permission to have separate closets for their personal and retail listings.
Another thing to consider is that listings in a single closet can be bundled together.  If a someone decides to buy your super adorable Kate Spade purse AND the polka dot onesie that your toddler wore once, then they won't have to pay for shipping twice.
There are pluses and minuses to both approaches, so it's really up to you to decide what will be best for you and your buyers.
More updates coming?
Poshmark hasn't made any changes to the search or browse features yet.  I'm assuming there will eventually be the option to filter by women's, men's or kids' clothes.  Especially because many brands cater to all three.
There is no new option to designate women's, men's or kids' when creating a new listing either.  So you may have to update your listings if that gets added in.  And you will definitely want to so they will be more discoverable by the users who will want to buy them.
And Poshmark hasn't officially made an announcement about this big change yet.  I'm wondering if their updated FAQ was released a little bit early.
We'll just have to keep an eye out for further changes and hope that this all goes smoothly.
Now go get all of those new listings up!
Are you excited about the change?  I'm interested in hearing your thoughts.  Let me know in the comments below!
If you would like more tips and tricks for selling on Poshmark, sign up to get email updates from the Posh Power Seller blog.  The sign-up form is over in the sidebar near the top of the page.
(Visited 4,613 times, 1 visits today)