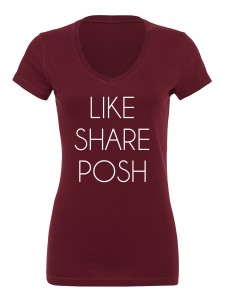 This post is more of a shameless plug for my t-shirt boutique that I just launched over at Totally Teezable  #sorrynotsorry
The Like Share Posh shirt is both for buyers and sellers on Poshmark.  Let's face it.  We're on the app ALL the time.  Liking, sharing, creating and editing listings.
I wanted to make a shirt that reflected the essence of a "posher" and thought the core functions of the app do just that.
All of the shirts at Totally Teezable are women's shirts with a fitted, attractive style.  I'm starting with v-necks right now, but will be adding some tank tops in the near future.
Head on over to the store and follow us on Facebook and Instagram to be in-the-know about the latest designs and products.
I originally wanted to offer these on Poshmark, but I also wanted to offer as many sizes and colors as possible.  I opted for offering greater variety, so the shirts are printed once they are ordered.  Because of this, the shirts are shipped from two different locations and Poshmark currently only generates shipping labels for one mailing address.
Because of this limitation, I will only be offering the shirts in my web store at Totally Teezable right now.  However, if I find there is enough interest for certain colors and sizes, then I will have them sent to my home so they can be available on Poshmark.
(Visited 854 times, 1 visits today)