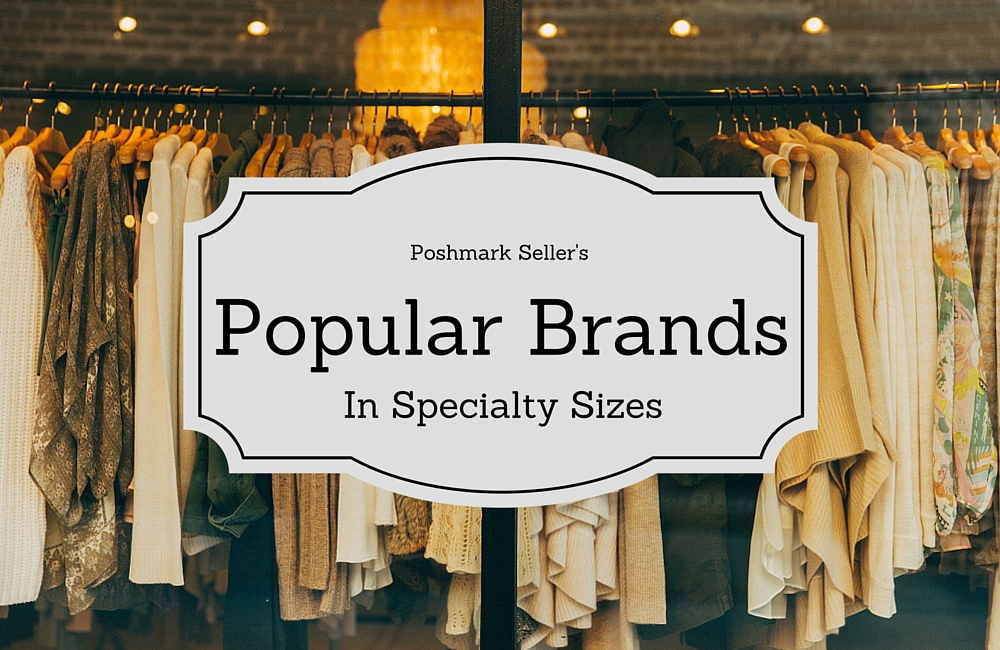 In April's trend report, Poshmark announced their new extended sizes feature.  Instead of having to manually enter a size other than S-XL and numbers, we can now label sizes as Plus, Petites and Juniors.
Here are some of the most sought-after brands right now in these size categories.  These are the brands that buyers are actively searching for in Poshmark.  If you have any of these pieces sitting around, get them listed ASAP!
Plus Sizes
Boohoo Plus  Most active listings range from $20-40 with sales at about $20.  There aren't many listings yet for this brand, but it is being searched for by buyers.  You will have a good chance of standing out and making a quick sale with this brand.
ModCloth  A much wider range of listings between $10 – $125 with a similarly wide range of sale prices
SWAK  Most listings are under $50 and selling for between $8-30
Petites
Paige Jeans  Listings vary widely from $15-200 depending on rarity and condition.  While a few listings have sold for over $100, the majority of sales are happening at under $50.
Banana Republic  Banana Republic is pretty saturated on Poshmark, but it is still very in-demand.  Prices vary widely depending on the item.  Higher-end listings over $100 may stand out more, but the majority of sales are going to lower-priced items.
Ann Taylor  Of this group, Ann Taylor has the most active and sold listings over $100.
Juniors
American Eagle  Active listings are between $5-60 and most sales above $25 are for jeans and jackets.
Blackmilk  Most listings are in the $50-100 range with sales going for $25-50.  This brand has sold A LOT of listings.
American Apparel  Some listings are over $100 but most are active under $50 and there are a lot of sales for anything priced under $100
How to stand out
For highly saturated brands, how do you get your listings to stand out?  To start, make sure that you have spelled the brand correctly on your listing.  Poshmark lets you select known brands as you start typing them, so tapping on Poshmark's brand suggestion when creating your listing is often the safest thing to do.
Take high-quality photos with good lighting.  Check out my previous blog post with my recommendation for an affordable lighting kit.  I use it myself and it has made a huge difference in being able to capture the details of the clothes I'm photographing.
Also, share your relevant listings to the morning parties.  The first party of the day is always for a handful of brands picked by Poshmark.  Don't try to cheat and edit the brand just for the party if your item is something else.  If you accidentally make a sale, then that will be a valid reason for the customer to make a return.
Build an authority closet
If you happen to have a lot of clothes in one particular brand (or have access to get them cheaply), consider curating a brand-centered closet.  Create a few informational listings about how to pick your size in that brand or how to spot authentic versus fake items.
If you are seen as an authority on the brand, buyers will remember your closet and will probably check out what you have first before turning to a broad brand search.
(Visited 8,055 times, 1 visits today)