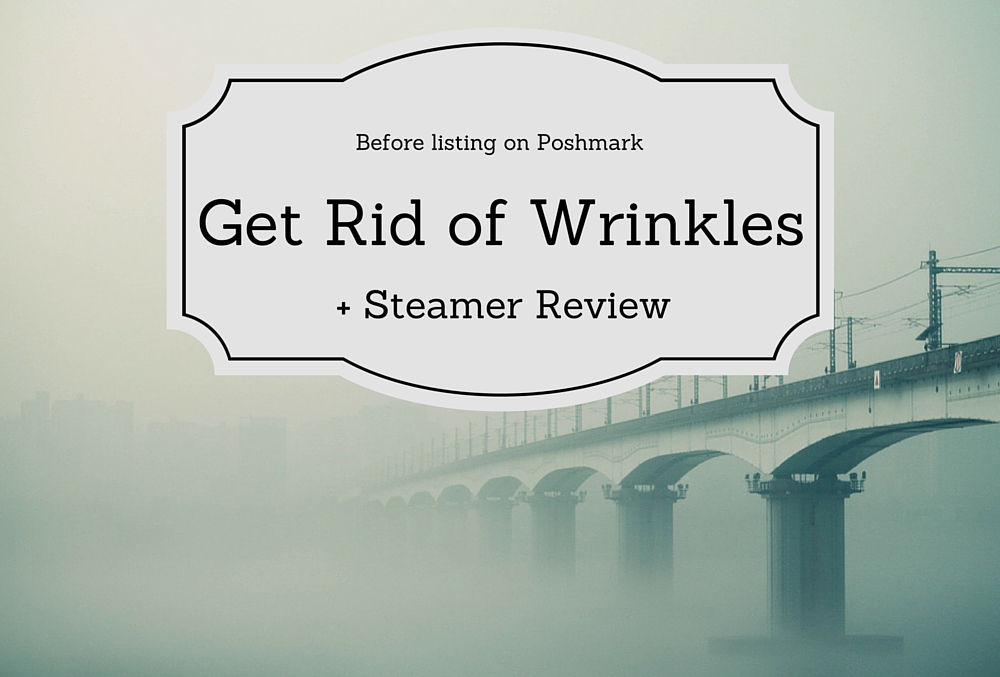 PurSteam Elite Garment Steamer
Price:  $69.99 on Amazon (price may vary)
Time to heat: 45-60 seconds
Steam time: 1 hour
Steam Temperature: 248 degrees
Capacity: 61 oz tank
Guarantee: 30-days 100% back, no questions asked
Warranty: 5 years
Background
I bought a Pursteam Elite Garment Steamer over a year ago and have loved it ever since.
One of my biggest pet peeves is people listing clothes on Poshmark that are all wrinkled and rumpled.  How attractive is that?!
Ok, to be totally honest though, I did that myself when I first started.  I just wanted to get clothes listed, get them sold and make money without putting much effort into it. I would toss a shirt on my bed, snap a photo and expect someone to buy it.
And guess what happened?
My sales were almost stagnant. Nobody was buying anything.
I kept wondering, why?  I was sharing tons of listings, following other closets.  I was gaining followers.  But my listings just weren't very attractive.
Once I figured out that the shoes had sold because the photo was cute and they looked clean and appealing, I decided to give my Poshmark closet an overhaul.  I wanted to get rid of all the sloppy photos and replace them with better ones.
Luckily, we can edit listings as many times as we want until they sell.  This gives us the freedom to try out all sorts of different techniques to figure out what works and what doesn't.
I went and got every piece of clothing that I had listed, got the wrinkles out, figured out a way to stage it and updated all of my photos.  Then the sales resumed!
How does a garment steamer work?
If you haven't used a garment steamer before, it funnels hot steam through a flat nozzle that you can press against any fabric to get the wrinkles out.  The steam relaxes the fibers in the fabric, so the wrinkles smooth out on their own without having to press a hot surface directly to the material.
Steaming works great for all types of fabrics of varying thickness.  The process is usually very quick on thinner fabrics.  With thick sweaters or denim, it may take a bit more time, but the steamer will still work to release the wrinkles.
Faster than ironing
I find using a steamer is much faster than ironing.  The PurSteam steamer has a large reservoir for water, but it only lets a little bit into the heating chamber at a time.  This lets the water heat to a boil in less than a minute and it starts producing steam right away.
PurSteam's official marketing says it heats up in 45 to 60 seconds, but mine usually heats up much faster than that.  I am usually seeing steam come out of the nozzle in about 20 to 30 seconds.  I'm actually always surprised at how fast it is.  I will turn the steamer on and go to get my clothes ready and it's always steaming steadily before I know it.
For me personally, I think I just find it easier to steam clothes.  For some reason, I am super awkward with an iron and it takes me a long time to get wrinkles out.  I also don't like setting up and taking down an ironing board.  With the steamer, I leave it set up in a corner and just flip the switch to on whenever I want to use it.
The PurSteam comes with a hanger attachment that is very sturdy.  It is so convenient to use since the hanger doesn't move around or swing while you are trying to steam.  Since I get better results when I pull the garment slightly taught, it's nice to have the hanger attachment stay put.  The metal rod that extends out of the base is also adjustable, so you can extend and lower it to the height that you need.  The height fully extended is 63″.
The metal rod does not lock into the base well though, so you have to pick up the steamer by the base or roll it to move it.  Since the unit comes with wheels, it's actually pretty easy to roll it around.
Gentle on delicate fabrics
Another huge benefit that I have found with the steamer is that it is gentle on the clothes.  It can be used on dry-clean only items, silk, lace satin, polyester … pretty much anything!
Even on regular fabrics that can be ironed, the steamer doesn't wear out the fibers as much as an iron would.
Another benefit is that I can use it on clothes that are brand new with the tags still attached. Using in iron risks melting the plastic hang tag, but tags hold up just fine to the steamer.
One thing I love about this PurSteam is that it doesn't randomly spit water while I am steaming.  I had a handheld steamer in college that would always spit a bit of hot water onto my clothes.  It didn't do any damage, but it would take longer for the spot to dry up.  That was especially annoying when I was in a hurry trying to steam a shirt in the morning.
Steam freshens the clothes
The heat from the steam actually kills germs.  It might not be 100%, but there will be fewer germs than before steaming.  It can also push out some scents that are trapped in the fabric fibers, helping to reduce odors.
Some people even use steamers to clean their bed mattresses.  Between killing germs and reducing odors, steam cleaning can really freshen up a mattress and even fabric covered furniture.
Some people wonder if the steamer will mold on the inside.  It shouldn't if you only use distilled water and keep it clean.  I have been able to leave water in mine for a few days at a time, but I live in a very dry climate.  When I switch out the water, I wipe out the base underneath where the tank sits.  If that area does start to get a bit funky, just wipe it down with some diluted vinegar and let it dry before putting the water tank back on.
Downside – no crisp creases
The one thing the steamer won't do is produce nice crisp and clean creases.  If you are a fan of creasing your shirts or pants, then an iron will probably be a better option.  However, since the steamer is so much easier for everything else, why not just have both?
The PurSteam steamer does technically come with a crease attachment.  However, I have never figured out how to use it and I couldn't find any part of the instructions that goes over it.  I've tried to make creases with the steamer by holding the material taught and pushing on the edge with the nozzle, but they usually don't work out well for me.
Upright v. travel size
I mostly use my steamer at home.  I can only think of one time that I ever took it anywhere and that was for my wedding.  Since I don't need to travel with a steamer, I prefer having one with a larger tank capacity so I don't have to refill it as often.
The PurSteam Elite Garment cleaner has a 61 oz water tank that will last at least an hour.  It's really great for marathon steaming sessions.  Sometimes, I will get a big pile of clothes together and a bunch of hangers and knock out all those wrinkles a once.
The larger capacity is really handy when you are steaming something large, like curtains or bedding.  They will definitely take more than a minute and you don't want to have to keep refilling and letting the water heat up as you go.  With the PurSteam, you can probably get several large items done on one tank.
If you constantly need to de-wrinkle on the go, a travel size option might be a better bet.  Keep in mind that it will probably only last a minute or two before needing to be refilled with more water.
What kind of water to use
I only use distilled water in my steamer, so it's fine to just leave the water in there when I'm not using it.  Since the water has had the minerals removed, the tank and the insides of the steamer stay clean.
If you use tap water, then the inside of the steamer might calcify.  This happened with a handheld steamer that I used in college.  The inside eventually became covered in a white film that cooked itself onto the heating element when it ran out of water.  It didn't change how the steamer worked, but it looked pretty nasty.
My Recommendation
Overall, I have loved using my PurSteamElite Garment Steamer.  There are other products out there that will work well, but I think the fact that this one is still #1 in the category on Amazon says a lot.
The steamer has held up well over the last year with a lot of use and it's just so easy!  I literally never iron anything anymore. (I don't even know if I still own an iron).
Get your own PurSteam Elite Garment Steamer over at Amazon.com
But whether you use a steamer, an iron or tumble your clothes in a dryer, make sure to get those wrinkles out before snapping Poshmark photos!
(Visited 989 times, 1 visits today)