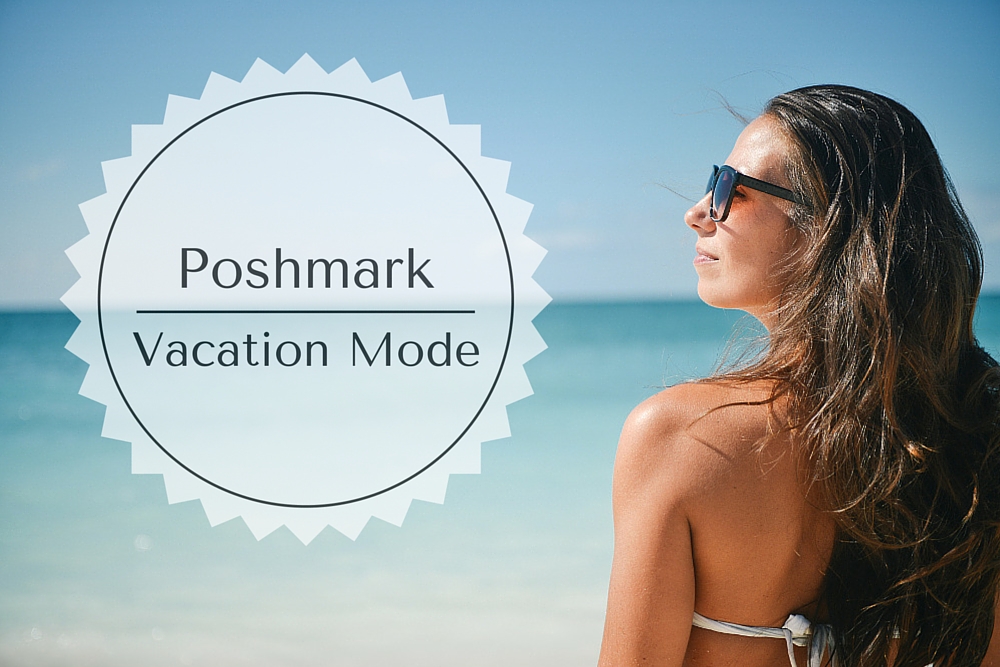 It is solidly spring and vacation season is well underway.  So what are you going to do with your Poshmark closet when you go out of town?
Obviously, it is impractical to bring along everything that you have listed in case you make a sale.  Don't even try to do it.  Even if you have an item with you, you won't want to have to worry about packaging it up and getting it to the post office when you are really wanting to relax and enjoy yourself with minimal stress.
If you are out of town for more than a couple days, then you won't want to risk making a sale and having the buyer wait forever for their package to ship.  That's not a good way to get a 5-star rating!
Plus, if you don't ship a package within 7 days, then the buyer has the option to cancel the sale at that point.
Mark listings as Not For Sale
UPDATE!!! Poshmark now has a Vacation Mode feature! Woot! Woot!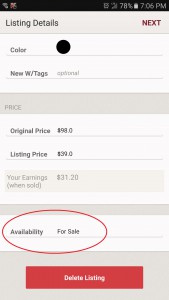 Just go to Poshmark Support Center > Vacation Hold in your setting tab.  Toggle the setting to on and all of your listings will be marked as Not For Sale.  You can even set an end date so you don't have to remember to reactivate your listings when they get back home!!
Unfortunately, Poshmark does not yet have a vacation mode feature.  So the safest thing to do is to go through every active listing and mark it as Not For Sale.
On each listing, click the Edit button.  Scroll all the way down the bottom of the listing details to the Availability option.  Change the Availability from "For Sale" to "Not For Sale".
If you want to go above and beyond, you can edit the description to add a note about having your closet temporarily closed.  You can include the date the listing will be available again so someone who comes across it won't get confused and think that it will no longer ever be for sale.
When you get back home, make sure to re-activate all of your available listings by marking them as For Sale again.
Create a vacation listing
After marking your listings as Not For Sale, you will also want to create a new information listing explaining that your closet is closed.  If someone comes across your closet and starts looking through listings, it might be kind of weird to open every listing to see it's not for sale.
When you create the new listing, you can use whatever you want for the cover shot.  I would suggest using something like an airplane or suitcase, or even creating a text-only image.  That way, it will be obviously different from a regular listing where you are selling clothes.
Mark the category as Other and set the price to $0.  Poshmark will display a warning when you save the new listing because active listings cannot be available for less than $3.  The warning is just telling you that the listing will automatically be marked as Not For Sale, which is totally fine.
In your vacation listing, make it clear when the listings in your closet will be available again.
Choose whether or not you will respond to questions
You're on vacation, so this is totally up to you.  If you will be somewhere with no data or wifi access, then the choice is easy.  You can just catch up on any questions or comments when you get back home.
If will have data or wifi, then you can choose to keep responding to questions as they come in.  If you really want to disconnect on your vacation, don't feel guilty if you decide to hold off on your Poshmark communication.  Enjoy your vacation and have a great time!
When responding on vacation, be polite and explain that your closet is temporarily closed.  Reinstate when the item will be available for purchase again and ask the buyer if they would like you to tag them in the listing when you are back home.  (They might totally forget by then)
Would you like to still be able to make money while on vacation?
With Poshmark, if you're not able to send out orders, then you don't get paid.
But what if there was a way to still make money without having to ship anything? What if someone could just buy something from you online and you make money from that sale, no matter where you are in the world?
That's the concept of drop shipping. Your website makes the sale and the manufacturer packs and ships the product straight to your customer.
And even better, what if the manufacturer gave you fully-functional website that was always kept up to date with the current products and offerings?  You don't have to worry about listing products, taking photos or writing product descriptions.  It's all professionally done for you!
Well there's good news! You actually can have instant access to all of that to build your own web-based skincare business selling products that are transforming aging, acne-prone, sun-damaged or sensitive skin.
Build up your business and let it run on auto-pilot while you go on your well-deserved vacation!
Click here to learn more about how to start your own skincare business with Rodan + Fields
Are you going on any cool vacations this summer?  Drop a comment with your summer plans!
(Visited 17,455 times, 1 visits today)