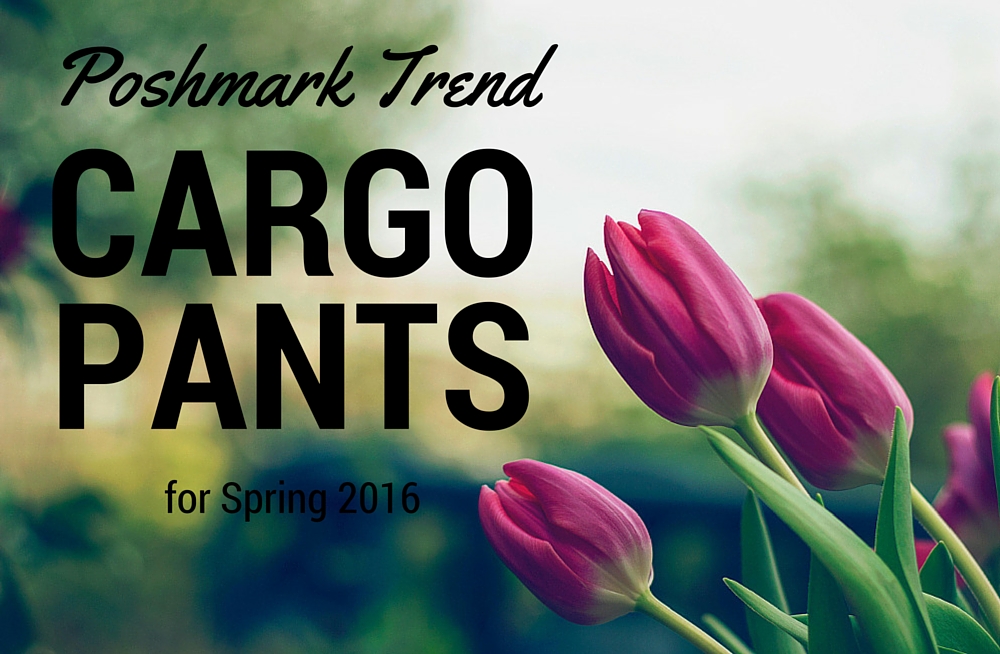 This really surprised me, but I have sold every pair of cargo pants listed in my closet within the last week.
Two pairs of full-length pants and 1 pair of shorts.
I have one more pair of cargo shorts that I have not listed yet, so I will be getting those up ASAP!
I'm not exactly sure why these cargo pants suddenly became popular, but I turned to trusty Google to figure out why.
Theory #1

I googled cargo pants trend and a lot of articles come up for men's fashion.  When I narrowed it down to women's, I noticed a popular article from the fall of 2015… Kendall Jenner and Gigi Hadid Are Bringing Cargo Pants Back in Style
Since it may have appeared fairly late to prepare for fall fashion, it got buyers ready for spring shopping.  With plenty of time to think about whether or not to go in on the cargo pant trend, now is finally the time to buy as temperatures warm up.
I haven't seen many trend reports specifically call out cargo pants for spring, but the timing of that article may have led up to the current buying cycle.  It's true that many celebrities have been spotted sporting cargo pants lately and I have been seeing lots of Pinterest pins with them.
Theory #2
Cargo pants complement the current athleisure trend.  As more and more women are favoring comfortable, functional clothes that still tie into an adorable outfit, the athleisure trend has had to expand a bit.  Not every look can be joggers and graphic tees.

Cargo pants fit the bill.  While the pant tends to be on the roomier side, with lots of pockets, modern cargo pants are stepping up their style game.  A lot of designers have been making slim-fitted cargo pants with sleeker pockets (or faux!).  I've even seen some cargo/jogger combos that would be the ultimate comfort pant.
Even though I see a lot of styled photos pairing the cargo pants with heels, they also work great with sandals.  Or if you roll the hems up, they are super cute with keds or other sleek sneaker styles.
On Poshmark

So I took a look on Poshmark to see what is available right now.
You can see the currently available listings here.  (Remember, if you are new to Poshmark, you can get a $10 credit by signing up – info on my Start Here page)
I see lots of the skinny, slim-fitted and cropped cargo pants available.  The classic style is also abundant.
There is something for everyone's price range, from below $25 to designer brands, like Chanel and Ralph Lauren Black Label.
As a seller, you might be interested to know that the majority of recent sales have gone for under $50.  While there are several listings over $200, none have sold for that much yet.  (There is one sold listing for over $900, but it was a bundle with several designer items.)  Only four listings have sold for over $100 that weren't bundles.
So if you have some cargo pants (or shorts) lying around that you don't plan on wearing this season, get them listed on Poshmark!  Freshen them up, get rid of the wrinkles and take some cute photos.  I know making pants look cute in photos is hard, especially if you won't be modelling them.  I will have a post shortly about exactly how to address that.
Do you have any cargo pants that you will be listing on Poshmark?  Are you excited about this trend, or just think it's … blah?
(Visited 393 times, 1 visits today)